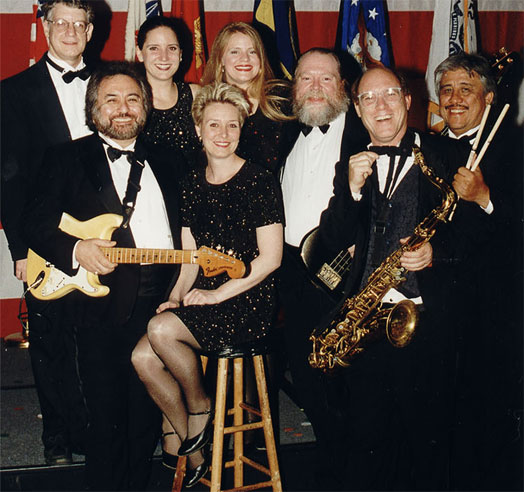 David Perkoff's Little Big Band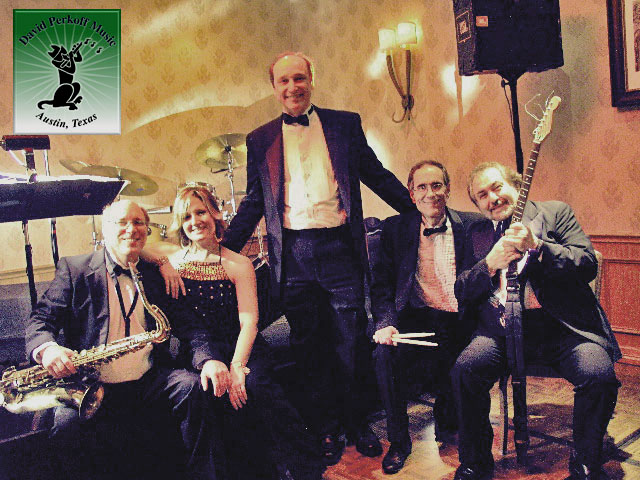 A successful party will be remembered for a long time and music is a key to making your event really shine. Whether you want your guests listening to elegant dinner music, or doing the "alligator" across a parquet dance floor - you can't beat the David Perkoff Little Big Band.

The David Perkoff Little Big Band is one of Texas' great party bands. Whether playing for Fortune 500 companies, conventions or weddings, the band brings professionalism, a rare expertise in many styles of music and BIG FUN to every event.

David's band is a four to seven piece group with horns with the option of adding up to three top female singers, costumed and choreographed. The band plays a full night of rock 'n roll, big band, swing, jazz ,R & B, and C & W. The band fits right in with theme parties. Recently they played world-beat music at a Safari Party, New Orleans Jazz at a Mardi-Gras party and even two-steppin' music for an 1,800 strong, women only, fun convention group who wanted to kick up their heels and "line dance."

In Austin, David's group has backed national acts such as The Fifth Dimension, Roger Williams, The Platters, The Shirelles and The Spinners. Our distinguished client list includes: the Ballet Austin Nutcracker Ball, the University of Texas Chancellor's Office, the Zoo Ball and St. Luke's Hospital Benefit in San Antonio, Hyatt Hotels, Texas Land Title Association, Texas Mental Health Association, Gov. Ann Richard's and George Bush's Inaugural Balls and hundreds of other clients, who have in common great taste and fun....that's the David Perkoff Little Big Band
Click here for a 3 minute clip from one of our gigs.
---
Little Big Band Song List
Here's a list of tunes from a pile that reached 6 inches high on Dave's desk. All of these songs were either selected by clients for their parties or Dave pulled them together thinking they would work well. No mention of whether they were used or not, but they're ready!
After All (from movie Chances R)
All I ask of You Phantom
All My Life Bonoff
All the Things you Are
Les Amants de Paris Edith Piaff
And I Love Her Beatles
Arthur's Theme Bacharach
Beauty and the Beast Walt Disney
Begin the Beguine Cole Porter
But Beautiful
Cabaret
Can't Help Falling in Love Elvis
Celebration Kool
Charade Mancini
Chariots of Fire Vangelis
Charleston
Cheek to Cheek Irving Berlin
Close to You Carpenters (Bert)
Cotton Eyed Joe
Clarinet Polka
Don't Know Much Bette Midler
Early Autumn Burns
Edelweiss Rogers
Evergreen Streisand
Georgia on My Mind
Gettin' Sentimental Over You-Dorsey Theme
Groovin' High Dizzy Gillespe
Have I Told You Lately
I Dreamed a Dream Les Miserables
Into the Mystic Van Morrisson
I've Got You Under My Skin Cole Porter
I Had the Craziest Dream


Ice Castles Theme Hamlisch
I've had the Time of My Life Dirty DancingIt Had to Be You
Just the Way you Are Billy Joel
Killing Me Softly with His Song
Lean on Me Withers
Let it Be Me Neville Bros.
Let's Face the Music and Dance Irving Berlin
Long Ago and Far Away Gershwin and Kern
Longer Fogleberg
Love is Forever Billy Ocean
Luckenbach Texas Waylon
Mack the Knife WeillMe and My Girl
Memories Andrew Lloyd Webber
La Mer
Merry Widow Waltz
Morning Dance Spyro Gyra
My Old Flame Johnson Koslow
Night and Day Cole Porter
One Chorus line
Only You Platters
Our Day will Come
La Paloma
People Funny Girl
Return to Sender Elvis
San Antonio Rose Bob Wills
Silhouette Kenny G
Smoke Gets in Your Eyes
Softer than a Whisper
Somewhere in Time John Barry
Songbird Kenny G


South of the Border Kennedy and Carr
Spanish Eyes
Spanish Harlem
String of Pearls
Suspicious Minds Elvis
Teddy Bear Elvis
Tenderly Harry James
Thank Heaven for Little Girls
That's What Friends areFor Burt and Carole
Three quarter Blues Gershwin
Through the Years Kenny Rogers
Tico Tico
Tie a Yellow Ribbon
Till there was You Music Man
Treat Me Nice Elvis
Twilight Time Platters
Unforgettable Nat or Nat
Unchained Melody Righteous Bros.
La Vie en Rose
The Way you Look Tonight Kern
The Way we Were Hamlisch
Wien du Stadtr Waltz
Wonderful World Louis Arnstrong
Where've You Been Kathy Mattea
Wind Beneath My Wings Bette Midler
You are So Beautiful Billy Preston
You'd be nice to Come Home To Cole Porter
You are the Sunshine of My Life Stevie Wonder
You Decorated My Life Kenny Rogers
Your Song Elton John
the Little Big Band travels in time
Here are some Show or Classically oriented tunes they have played at one time or another. And we know all the wedding music from Ave Maria and Canon in D to Handel's Water Music and the big one, THE BRIDAL MARCH
Think of Me - Angel of Music-
Music of the Night, Masquerade all from Phantom
Barcarolle - Tales of Hoffman/Offenbach
Habanera - Carmen/Bizet
One Fine Day - Madam Butterfly/Puccini
Home to Our Mountains - Il Trovatore/Verdi
The Flower Song - Carmen/Bizet
Woman is Fickle - Rigoletto/Verdi
Musetta's Song - La Boheme/Puccini
Toreador's Song - Carmen/Bizet


The Laughing Song Die Fledermaus/Strauss
Waltz - Faust/GounodSend in the Clowns - A Little Night Music/Sondheim.
Intermezzo Sinfonico - Cavalleria Rusticana/Mascagni
Intermezzo - Carmen/Bizet
La Donna e Mobile - Rigoletto/Verdi
Don't Cry for me Argentina – Evita
Memory - Cats/Andrew Lloyd Webber
I Don't Know How to Love Him, Jesus Super/Andrew
By the way, in one week, the band learned 'Friends in Low Places' by Garth Brooks, 'Freebird' by Leonard Skynard and' Michelle' by the Beatles. This week its two R and B tunes by Robert Cray, Time and Tide by Basia, and a Jerome Kern song.

Standards

Do Nothin' till you hear from Me
Don't get around Much Anymore
Do you know what it Means o Miss New Orleans
Fly me to the Moon
Edelweiss
Foggy Day
Fools Rush In
For Once in my Life
Addios Muchachos
All of Me
All the Things you are
As time goes by
Bei Mer Bist Du Schon
Basin St. Blues
Bernies Tune
Bill Bailey
Blackbird
Blue Skies
Bob Wills Medley
Caldonia
Compadre San Juan
Crazy


Chahootie
Brazil
Days of Wine and Roses
Desafinado
Do Nothin' till you hear from Me
Don't get around Much Anymore
Do you know what it Means o Miss New Orleans
Fly me to the Moon
Edelweiss
Foggy Day
Fools Rush In
For Once in my Life
For the Good Times
Hello Dolly
Hey BabaRebop
How high the moonFor the Good Times
Hello Dolly
Hey BabaRebop
How high the moon
If Dreams come true
In the Mood



Italian Dance Music
Is you Is
It Don't Mean a thingIs you Is It Donít Mean a thing
Jersey Bounce
Jugo De Pina
Just the Way you are
Kansas City
Moonlight in Vermont
Killer Joe
Lambotomy
Lady be Good
Lady is a Tramp
Let the Good Times Roll
Make the World Go Away
Midnight in Moscow
Misty
Moon River
My Funny valentine
New York, New York
Night Train
On Green Dolphin street
Opus One
Pennies from Heaven
Perdido





Shadow of Your Smile
The Preacher
Satan takes a Holiday
San Francisco
Satin DollSatan takes a Holiday San Francisco Satin DollSentimental Journey
Slow Hot Wind
Somethimes I'm Happy
Stompin' at the Savoy
String of Pearls
Struttin' with some Barbecue
Switchin in the Kitchen
Take the A Train
Tenderly
Tennessee Waltz
Time after Time
There will never be another ewe
Things ain't what they used to be
Till there was you
Tuxedo Junction
Who Can I Turn To
Woodside
Yardbird suite
Your Nobody til Somebody Love You

John's list and these are just a few, he even knows 'By the Time I get to Phoenix'

99 1/2
Addicted To Love
Bad Moon Risin
Black is Black
Black Magic Woman
Boney Maroney
Boogooloo Down Broadway
Brown Eyed Girl
Cocaine
Crossroads
Do It Anyway you Want
Down On the Corner
Down the Mississippi to NewOrleans
Eleanor Rigby
Evil Ways
Faith
Feelin Allright
Get Back Day Tripper
Get Ready


Give Me Some Lovin'
Goin' Down
Grapevine
Green River
Hand Jive
Have You Ever Had the Blues
Hold On I'm Comin'
Honky Tonk WomenHound Dog
House Of Rising Sun
I Feel Good
I Shot the Sheriff
I'll Go Crazy
Johnny Be Goode
Joy to the World
Kansas City
Knock on Wood
La Bamba
Land of 1000 Dances
Linda Lou
Lord, Lordy Mis Clawdy


Louie, Louie
Love Potion #9
Love the One you're With
Lucille
Midnite Hour
Momma Told Me Not to Come
Mustang Sally
Obla Di, Obla Da
Poppa's Got a Brand New Bag
Pretty Woman
Pretty Woman
Proud Mary
Red and Ramblin' RoseRespect
Runaway
Satisfaction
Single Bed(Marley
Six Days on the Road
Slow Down
Smokin' Gun
Spinnin Wheel

Start Me Up
Sticks and Stones
Suzy Q
Sweet Home Alabama
Teddy Bear
The Dog
The Letter
The Way you Do
Tighten' UP
Time Won't Let Me
Treat Her Right
Treat Her Right
Treat Me Nice
Twist
Walking the Dog
Wooly Booly
You Can't do That
Your Momma Don't Dance
Some Ballads
All Alone am I
All My Lovin'
Blue Moon
Bridge Over Troubled Water
Bring It on Home
Can't Help Fallin in Love
Cherry Pie
Color my World
Dock of the Bay
Dream Dream Dream
Ferry Cross the Mercy
Fever
Forever My Darling
Georgia
Hard Days Nite
He Don't love You
Hey Joe
Hey Jude


House of the Rising Sun
How Sweet it Is
I'll Still be Lovin' You
Imagine
Let It be Me
Let it be
Light My Fire
Love is Forever
Love Letters
Lucky ole Sun
My Girl
Only You
Raindrops Keep Fallin on my Head
Scotch and Soda
Since I Fell For You
Sixteen candles
So Far Away



Something
St. James Infirmary
Stand by Me
Tell it Like it is
There is Love
There is Something on your Mind
To Love Somebody
Try me
We belong Together
When A Man Loves a Woman
When I need You
When Something's Wrong with my Baby
Whiter Shade of Pale
Will You still Love Me Tomorrow
Yesterday
You Are So Beautiful
You Send Me
Country
Amarillo by Morning
Blue Eyes Cryin' in the Rain
Cheatin' Heart
Coca Cola Cowboy
Could I have this Dance
Crying Time
Danny's Song
Everything's A Waltz
Fool #1
For the Good Times
Four and Twenty
Four Walls/He'll have to go
Fraulein


Friends In Low Places
Gardinia WaltzGreen Grass of Home
Hell Bound, Whiskey Bent
HelpMe Make it Through the Night
I Can't Stop Loving You
I'm Leavin' it up to You
Jack Daniels--If you Please
Jaded Lover
Jambalaya
Love in the First Degree
Love's Gonna Live Here
Luchenback


Making Believe
Margaritaville.
Mathilda
Never Ending Love
Oh Lonesome Me
Okie From Muskogee
Old Flame
Phoenix
Release Me
Rose Colored Glasses
San Antonio Rose
Silverlake Blues


Silver Wings
Take These Chains
The Dance
Together Again
Wasted Days
Welcome to My World
Welcome to My World
Wichita Lineman
Women I Never Had
You Don't Know Me
You Pickd a Fine Time to Leave me Lucille
You Win Again
Current songs
Addicted to Love
Apple Peaches Pie rap
Back in the High Life
Bonnie Rait tune
Faith

Hanky Panky
Hey Bartender
Hip to be Square
Love is
Mony Mony

Something is wrong with my baby
Song bird
Pink Caddy
Pretty Woman

Start me up
Wailers
Proud Mary
Shaker Song
Dixie songs:
Alexander's Ragtime band
Appletree
Armed Forces Songs
Basin St. Blues
Bill Bailey
Byrnes Hornpipe
Charlston
Darktown Strutters Ball
Do You know what it means
Down by the Riverside
Give My Regards to Broadway

Go tell it on the Mountain'
Hello Dolly
Hey look me over
I've found a new baby
Indiana
Java
Jazz Band Ball
Jazz Me Blues
Johnny Come's marching home
Joshua fit the battle of Jerico
Limehouse Blues

LochLomand
Mame
Midnight in Moscow
Muscratt Ramble
Over there
Petite Fleur
Red River Valley
Royal Garden Blues
St. James Infirmary
St. Louis Blues
Struttn' for some Bar B Que

Swanee
Sweet Georgia Brown
Swingin Shepard Blues
That's a plenty
The Entertainer
Tin Roof Blues
Wabash Cannonball
Watermelon Man
What a Wonderful World
When the saints
Yellow Rose of Tx.
First Dance Suggestions
It had to be you
Unforgettable
Satin Doll
Tenderly
How sweet it is to be loved by you
Misty
Somewhere Over the Rainbow
Makin Whoopie
I will always love you - Whitney
You Are So Beautiful Cocker
Our Love Is Here To Stay
Till There Was You
When I Fall In Love
As Time Goes By
There Is No Greater Love

You Are The Sunshine Of My Life
I Don't Know Much Neville/Ronstadt
You Decorate My Life
Sunrise Sunset
Wind Beneath My Wings
Up Where We Belong Cocker
Anniversary Waltz
La Bamba
Hawaiian Wedding Song
Love Is Forever Billy Ocean
Let It Be Me Everly Brothers
The First Time Ever I Say Your Face
You Light Up My Live
You Made Me Love You
Hello Ritchie


Truely
You Mean More To Me
Peaceful Easy Feeling Eagles
Somewhere In Time John Barry
Somewhere My Love Dr. Zhivago
Could I Have This Dance Anne Murray
Amarillo By Morning Strait
The Dance Brooks
What Are You Doing For The Rest Of Your Life
Evergreen Streisand
The Vow Go Unbrokemn Rogers
My Funny Valentine
Goin Out Of My Head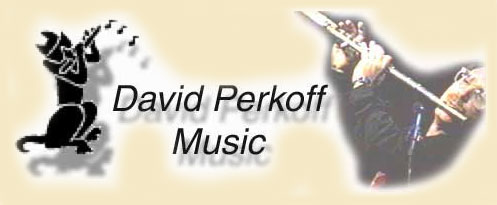 FAQ • Featured Entertainment • Large Events • Recent events • Wedding Resources
D

AVID

P

ERKOFF

M

USIC,

I

NC.
site map •
site content copyright 2016 David Perkoff Music, Inc. • corporate entertainmet • custom music & comedy shows • Austin, Texas